For Soapmaking Mineral Makeup, Bath Bombs & Salt Applications:
Combine with powdered alkanet root for more colour variance.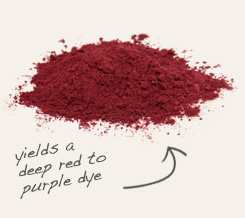 Several factors, including the base colour of your recipe, will affect the final colour achieved when using this colourant.
The final result will also depend on which phase the extract is added to. Therefore, we recommend experimenting by creating different one-pound test batches so that you can compare the results achieved by adding the extract directly to the oil phase, steeping the extract in the lye solution for a pinkish/tan colour.  Or add the extract to the combined phases at trace. For a true red allow your soap to gel.  This is a wonderful red colourant. It may look purplish when mixed at trace, but after hardening it is red.
In our one-pound test batch, we found that adding 1 level tablespoon of dry powder directly to the warm oil phase yielded a deep fuschia hue which cured to a medium pink shade after four weeks. Our uncoloured control batch was a light off-white shade after curing for four weeks.
INCI: Rubia tinctorum
Country of Origin: India
Of all the red natural soap colourants out there, madder root powder is probably the most popular for soap making as it offers a beautiful shade! Depending on how much is used, it will give your soap a very nice light pink colour to a deep, rich red hue that many will marvel over. Who says natural soap colourants can't be bright and vibrant? This soap making colourant is great for swirls too as it contrasts very well against other soap colours. Just add about 1 tablespoon per pound of oils at a light trace. You can use more if you're looking for a darker red. Some have added it to water before adding the lye, and they have said 1 tsp per pound of oils used will give you an antique rose colour.
Other uses Try it in salt or even in foundation for darker skin. Works wonders.